Whilst Black Friday in the US is geared around the day after Thanksgiving, being the last Friday of November it is also for many people the last payday before Christmas and us Brits sure know how to spend. Today being December 1st, that means most of us have at least 22 days, but possible 27 more days until we next get paid.
But it's not just November/December where many of us are counting the meals left to cook before payday.... Paymentsense reckon over one third, yes,
one in three of us
, change our eating habits as the month draws on because we've spent up to quickly, if you're female (and the magic of analytics tells me that about 80% of my readers are ladies) then your TWICE as likely to be a payday millionaire. That's scary stuff- want to know more?
Here's 10 things you should know about the rise and inevitable (and what goes up, must come down) fall of the payday millionaire.
With that in mind, they asked me to come up with a cheap eats recipe for the 'scraping the barrel' moment at the end of the month, so here goes with the beans...
4 meals for £5
... let's do this!
2 x Mixed bean salad 44p each
1 x tinned tomato 25p
1 x Onion approx 25p
Garlic 30p
Peri Peri or fajita seasoning 50p
Cherry tomatoes 89p for a pack
Peppers 90p for 3
Total: £3.72
I bought my ingredients from an Aldi store, prices are correct from late November 2016
Technically the cost per per portion:
£0.93
but I'd say this recipe yields more like 6 portions
In the meantime, today is ALL about my Mexican mixed bean stew- if you want to make this in the slow cooker, add tomatoes, one pack of peri peri seasoning, one slice onion and the entire bulb of garlic sliced or crushed for approx 4h on low, and add the beans, peppers & tomatoes for approx 30 mins more on low.
1. Slice onion & slice thinly or crush garlic, add to a pan- make it a large one as you have a lot more ingredients to add, with a splash of oil on medium heat & allow to soften slightly before adding one pack of the Peri Peri seasoning- yes, I'm aware this isn't Mexican, but it adds lots of flavours which are local to that neck of the woods if you don't tend to have many spices or other ingredients. Give the whole lot a good stir through, it'll seem a bit dry, but that's ok.
2. Add the tinned tomatoes to the mix and stir well. Bring the whole lot to a gentle simmer and leave for 20-30 mins.
3. Whilst the the sauce base is cooking, slice on of the peppers into strips, and cut a handful of tomatoes into halves. Drain the mixed bean salad into a colander, give them a quick rinse and leave them to dry off a bit.
4. Give your tomato sauce a good stir through, if it's still looking a bit thin, you could add a touch of tomato puree if you have some, if not a half teaspoon of flour (preferably cornflour) let down slow into a thick liquid and stirred in will help. Check for seasoning, I'd normally add a generous helping of black pepper and maybe a splash of tabasco or chilli sauce to your own taste.
5. Add the mixed beans and stir thoroughly. You could add the peppers to the whole batch if you wanted to, but keep in mind that they'll be a bit soft if you reheat the mix later on (and you really should because the flavours develop).
6. If you haven't already added your peppers, heat them through by adding them all to a dry, non-stick frying pan on a high heat for a few minutes, stir regularly to prevent burning.
To serve, put the vegetables into a bowl and ditch a large spoonful of the bean stew over the top. Enjoy a warming well balanced meal that is also suitable for vegetarians (and depending on the spice mix you use, may also be Vegan- always check ingredients if you are catering for a vegan).
Approximate nutrition based on 4 servings: 268 calories, 35g Carbohydrate, 12g Protein, 8g Fat, 10g Fibre
Calculated using MyFitnessPal recipe import. Values not verified.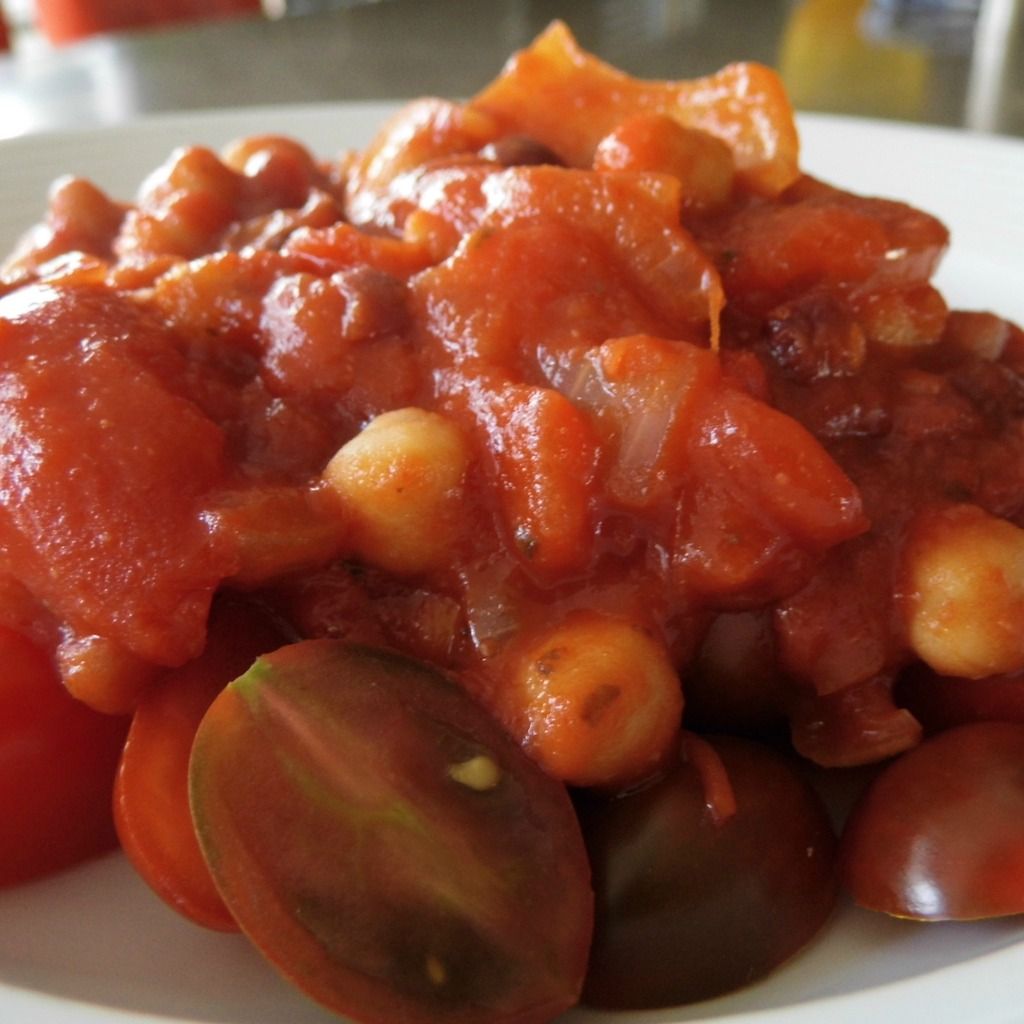 So, you could repeat this 4 times over, and it would feed you well. but I know I would be bored. So here's a few more ideas on what to do with the remain 3 portions by adding one low cost add on...
Sweet potato
- pour the bean stew over a baked sweet potato for a warming, carb loaded meal.
Sweet potatoes £1/kilo which should give you 4-5 medium potatoes, so should give you 4 meals
Total cost £4.72
Burrito Bowls
-Shredded lettuce & cooked rice or grains, dig your hand down the back of the sofa for some change to add some sliced or mashed avocado
Lettuce 45p, Instant savoury rice 30p, Avocado approx 30p. Should yield at least 2 bowls.
Total cost £4.77
Enchiladas
- roll your bean stew up in flour tortillas and bake in an oven proof dish for 20 mins for soft in the middle, crisp on the outside enchiladas. A topping of cheese before baking isn't a bad add on if you've got some!
Tortillas 65p for 8, Mozzarella ball 49p. Should yield 2-3 large portions.
Total cost £4.86
P.S. Keen eyes will notice the pictures were taken across 2 meals, because I too had a whole lot of leftovers to get through!