I've always loved Asian food and it influences a lot of what I eat on a day to day basis. I really love the prevalence of vegetables and the range of sweet, sour & savoury flavours and how easy it is to mix and match with the ingredients you have kicking around. Most of my recipes are not authentic Thai, Chinese, Vietnamese, Korean etc, but they are heavily influenced by those dishes and this version of Pad Thai is perfect for a quick, warming, vegetable heavy dish that is easy to bulk out with proteins and carbs depending on your needs.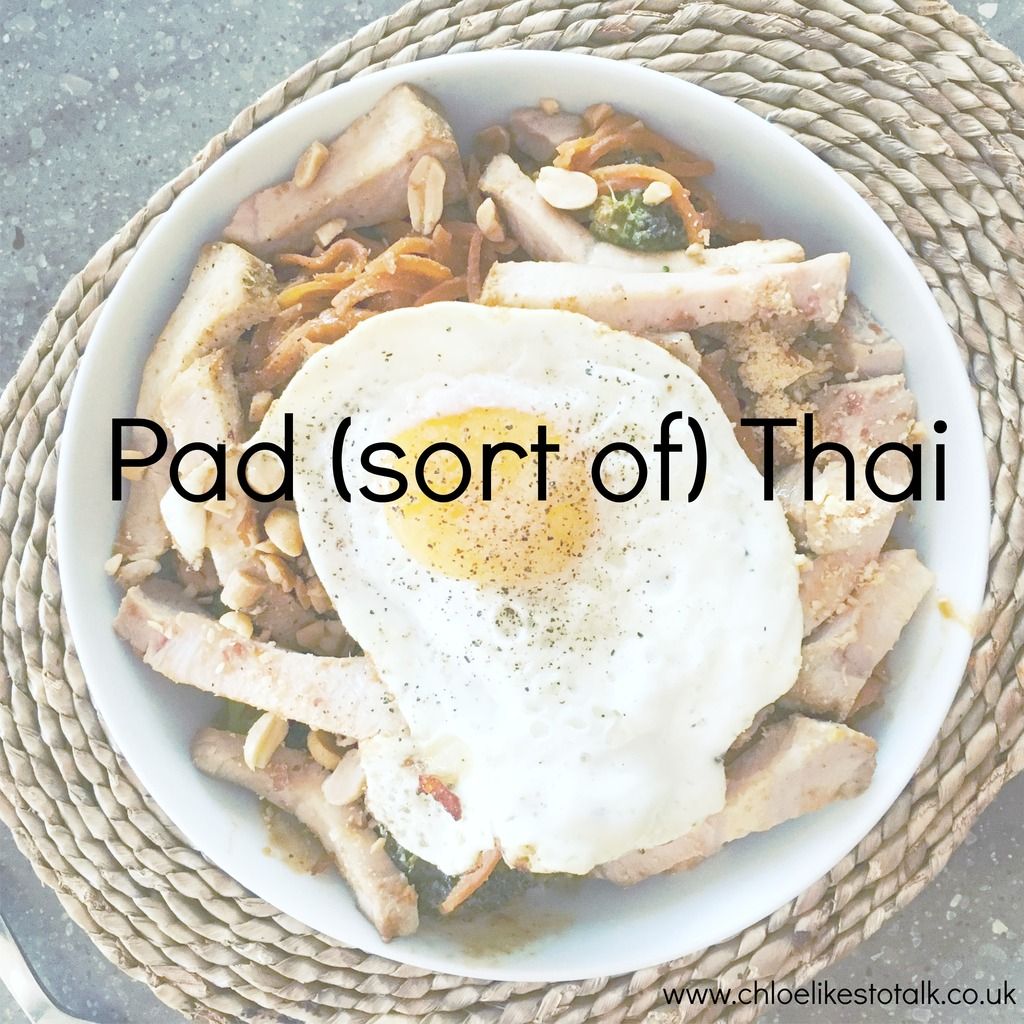 Unfortunately, if there's a way to make Pad Thai look pretty, I've yet to find it, so you're stuck with the single image for my entire recipe. Hang in there though, it's definitely worth it!
Ingredients:
1/4 cup Soy sauce
1/4 cup High quality peanut butter
2 tsp Tamarind paste- Tesco do their own brand version, failing that an Asian supermarket or Amazon are good bets
1/2 tsp curry powder
Cooked rice noodles
Vegetables of choice- I used spiralized carrot, broccoli florets & green beans in this version
Cooked meat of choice- left over roasted pork in mine
Traditionally Pad Thai is topped with crispy onions and crushed peanuts- I didn't have crispy onions so I was super decadent and put a fried egg on top of mine!
For the sauce- the important bit...
1. Add soy sauce, tamarind paste & peanut butter to a non-stick pan and heat gently on medium whilst stirring to melt the peanut butter and combine
2. Once peanut butter has melted, stir in the curry powder
3. Your sauce is likely to resemble a thick paste, let down with a splash of water at a time until the consistency is similar to ketchup.
Add a tablespoon of sauce to cooked rice noodles and stir fried vegetables and mix well to coat everything, transfer to a bowl and top with cooked meat and your egg if you decided to go all out like I did.
The sauce with keep in a jar or container for around 1 week in the fridge and it may need letting down a little after it's been chilled as the peanut butter content means it sets a little.
Approximate nutrition info for the sauce based on 4 servings per batch:
120cals 8g fat, 6.7g carbs, 8g protein
Based on MyFitness Pal recipe input, values unverified