It seems you're a voyeuristic lot, can't say I blame you and it's not hugely surprising given the origins of blogging. Previous posts in the series include the original
What I Eat In A Day (click if you missed it)
, the later
Carb Loading Edition (click if you missed it)
and today I present: the Training Edition.
I'm currently 6 weeks out from my first ever half marathon and that feeds nicely into continued training towards an endurance 24 hour team race in June (Endure24) so currently my week includes: a weights session, a speedwork running session with my club, a high intensity weights/cardio mix (a personal training session), a shorter run at my goal 'race pace' or just above, and a long run at a slower than 'race pace' steady speed that increases in distance gradually over the course of the plan, so there's plenty going on and man does it require some fuelling!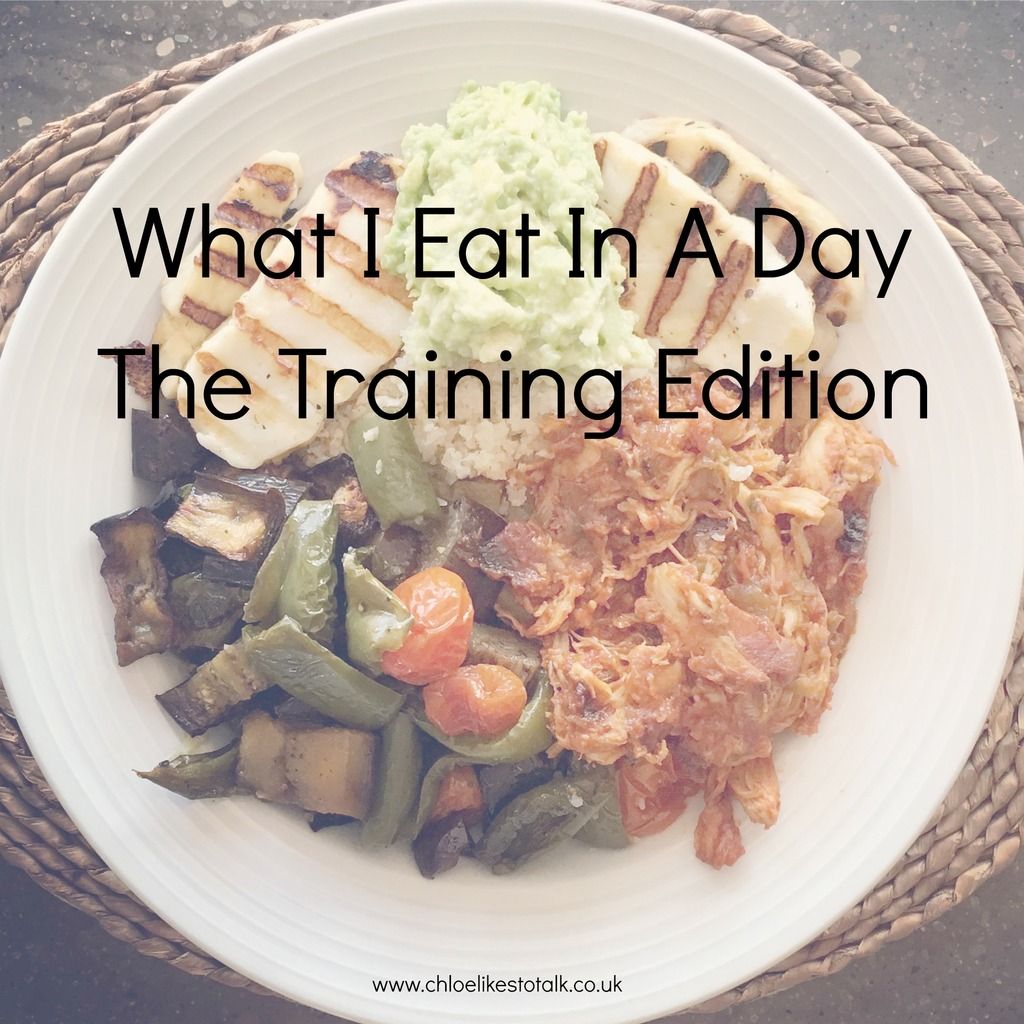 An importnat disclaimer applies here: This is not dietary advice, this is not advocacy of a particular way of eating or a promise of any kind of results based on what I choose to eat. What works for me based on my needs, lifestyle and preferences doesn't work for everyone and
the MOST IMPORTANT THING is that you make dietary choices for your own health and wellbeing.
This post is just a chance to have a nosey into a full day of food instead of singular meals for a change and I'm a firm believer that as much as I have a responsibility to remind you of these things before you read my post, as a consumer of media, you have a responsibility to put what you read, see, watch and listen to into context.
Breakfast
After a disappointing foray into protein porridge, I'm firmly back into protein shake/smoothies for breakfast. Whilst it's a bit chillier I've taken to finding ways to warm them up, my current favourite is:
250ml warm milk of choice (I use almond milk to keep my sugar intake down)
2 shots strong coffee or you could use an instant espresso powder
1 Banana
Scoop of protein powder- I like vanilla in this, but chocolate or mocha might work too
Blitz the whole lot for a latte and breakfast all in one hit!
Approx 250cals
Snack
Some days I barely notice the morning fly past before realising I'm ravenous and some days, like today, all I can think of is food. I keep a stash of these nut & seed packs in my desk at work. Being pre-packed stops me overdoing it as well, because on a day like today, I could for sure eat as much as was to hand if not!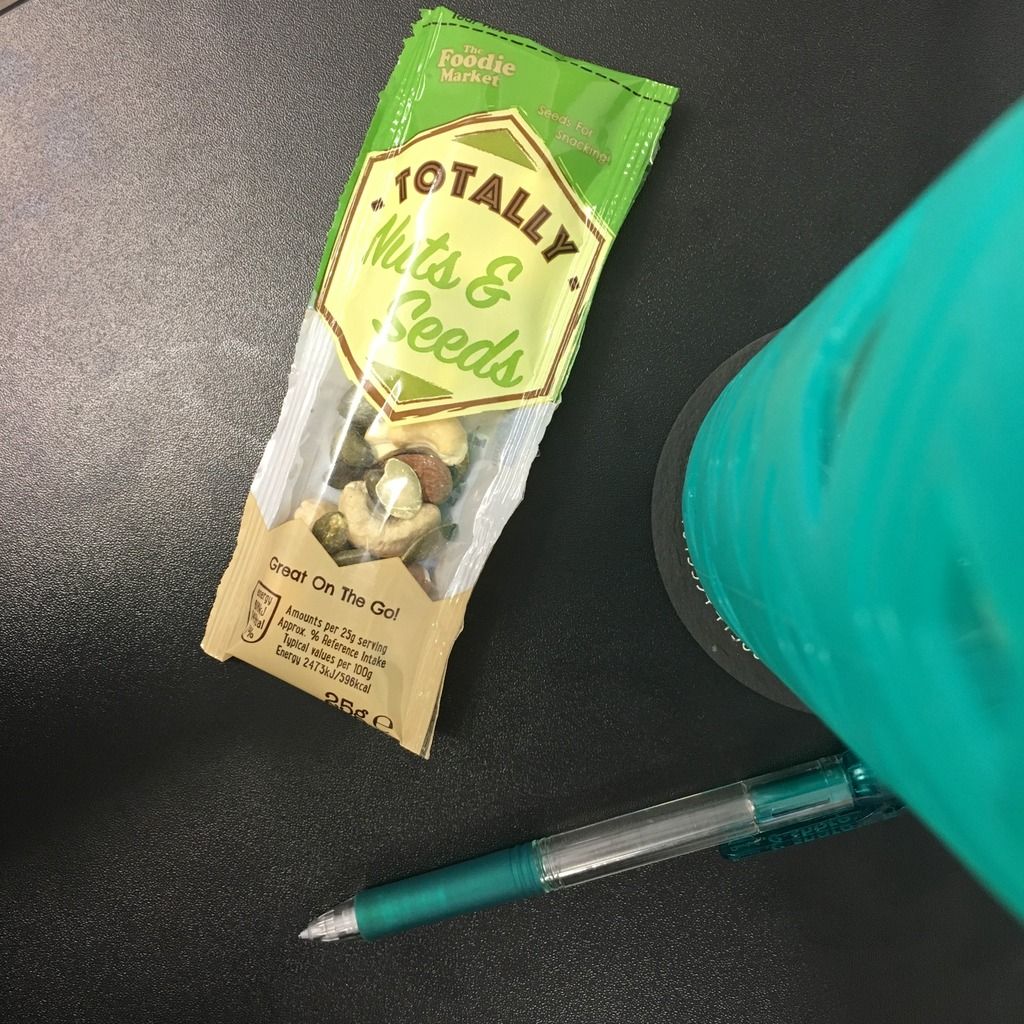 Approx 125 cals... Can you see a theme emerging with my desk accessories?!
Lunch
For most of the week, my training happens at the end of the day, after work, so I tend to keep my lunch light on carbs. In this chillier part of the year soup is a favourite- curried parsnip made with coconut milk with a few king prawns and a sprinkle of toasted seeds is a close second but hands down my current favourite is my own version of a burrito bowl, gently warmed through.
This one has:
Cauliflower rice- roast cauliflower with a spray of rapeseed oil, garlic powder, salt & pepper. cool, blitz.
Homemade chicken chilli mix- chicken slow baked with salsa (hell yes for cheating), garlic, tomato puree, smoked paprika, chilli & oregano
Roasted peppers, aubergine, onions & tomatoes
Speedy guacamole- mashed avocado with a splash of lime juice, salt and a dash of sriracha
And bonus grilled halloumi- I do love me some leftovers!
Approx 620cals
Snack
I LOVE mint chocolate, I found this in Spain but I think you can get it in the UK- you can certainly buy the cherry version which is lovely too!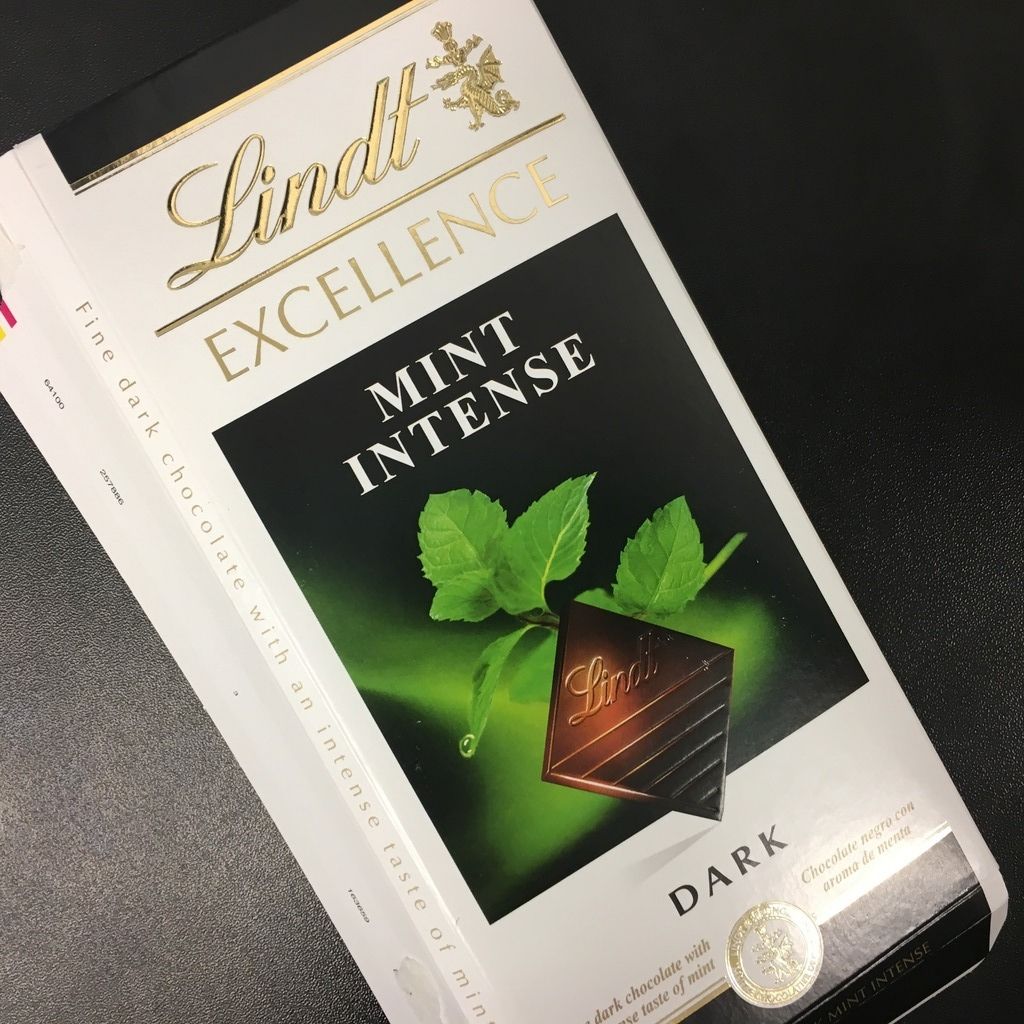 Approx 50cals
Dinner
The best thing about going out to run a really tough session of sprint repeats when it's cold and dark is coming home to hot food followed closely by a hot shower and cosy pyjamas! One of my favourites is a weekday mini-roast, but this is another favourite bowl of joy- homemade Pad Thai. More on the recipe coming soon, but this one include: spiralized carrot, shredded cabbage, broccoli, rice noodles, leftover roasted pork and a glorious fried egg. More next week on my pad thai sauce and how I make it.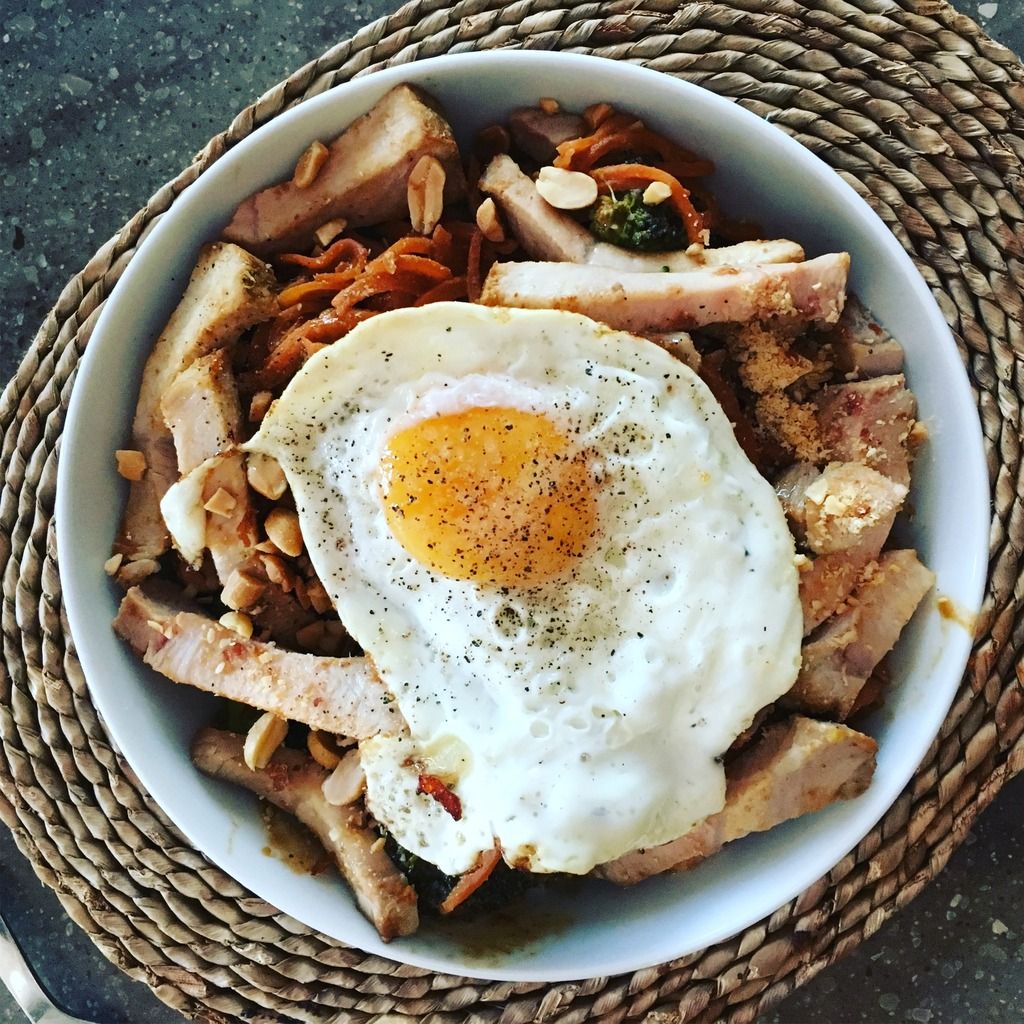 Approx 545cals
Dessert
Sometimes I just need dessert. Need it. I've been playing about with the MyProtein jelly for a couple of weeks and I'm a bit on love with the watermelon flavour. It's dead simple to make- add hot water, stir and chill in container of choice! I keep mean to try putting extra fruit in it, and promptly forgetting in my excitement.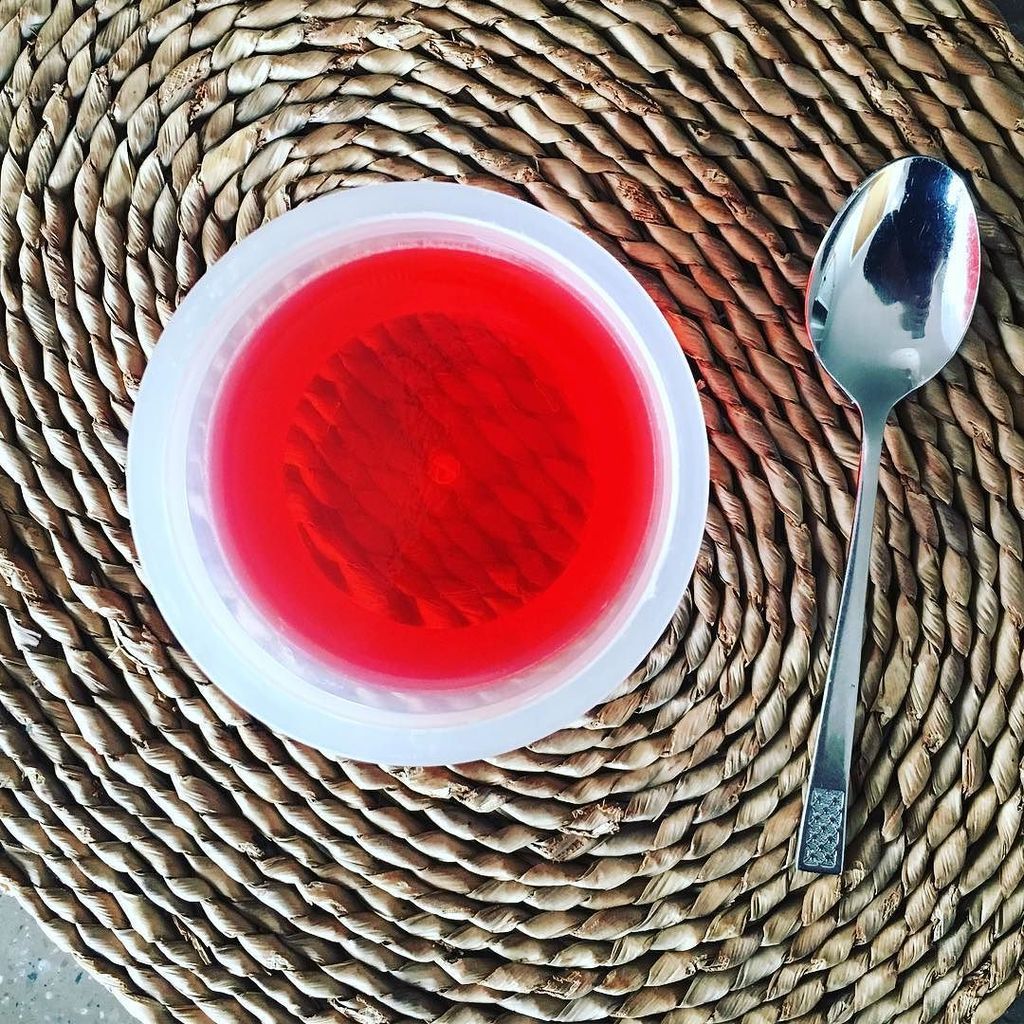 Approx 70cals
So that's my day in training and food. I have included approximate calorie values because I think it can be useful. I totalled out at around 1660cals and I generally aim for 1600-1700cals per day, which is a small increase from my last edition of my food diary because over the course of the week I'm doing more training at a higher intensity. For the record, this was a work day and I went to an especially tough speedwork running session with my club in the evening, burning approx 700 calories after running at high and moderate intensity over 11km for over an hour.
I hope, in the aftermath of the Horizon documentary on clean eating, the Grace Victory documentary on the same subject last year and the overwhelming table turn that's happening (about time) when it comes to our relationship with 'healthy eating' and restrictive plans, that my day demonstrates there isn't a need to cut out food groups nor should food that fuels your body be bland, boring or a punishment. Whilst this is labelled up as the training edition of my food diary, this isn't a one off day or even a one off week, and I don't think it's sustainable to eat in a way that makes you miserable, so everything you see on my food diaries or my instagram are meals or foods I eat because I want to and because I enjoy them- be that burrito bowl or a beer.