It's been a bit quiet over here since we kicked off 2017... Happy New Year and all that stuff- for the record, I'm not doing Dry January, Veganaury, no new diet plans and I'm already 2/3 of the way through training for my big race of 2017. Now... onto the good stuff.
The Friday after New Year, Tom & I trundled off to Luton Airport, trekked through the hideous long stay car park area and boarded a flight to Malaga. My parents very kindly gifted a week of timeshare in one of the Marriott resorts on the Costa del Sol as they couldn't fit the time in that they wanted, and we also managed to squeeze some extra days onto the end of our week- more on that and aforementioned castles shortly.
I have hear many people in my age group (I'm dangerously close to being in my late twenties, but clinging to 'mid')talk about Southern Spain in a tone usually reserved for a spectacularly run down seaside resort where it rains for 300 days of the year and you might be more likely to get cocaine than a prize from a vending machine. It somehow seems too 'common', to be boring, not glamorous enough, and a bit sleazy in a world where we seem to have to fight it out on Instagram to out-quirk one another's Air BnB choices. If you've never been, there are parts of the coast that have earned a seedy reputation for dodgy cocktails, rubbish nightclubs and greasy all day breakfasts, but there are also some brilliant restaurants, interesting shopping opportunities, hotels with facilities for all weathers and the biggest draw for me: London to Malaga is less than a 3 hour flight (so you don't lose an entire day of a short break on a flight) and it's consistently warm enough- even in January, to enjoy a bit of winter sun.
We had a very restful week of catching up on our TBR piles in the sun, eating at my favourite Italian restaurant and resisting the urge to buy everything in my favourite handbag shop in Old Town Marbella. But then it gets interesting. After checking out we drove 2 hours to Cordoba. Famous for it's Jewish quarter and the Cathedral-Mosque, it's a more traditional Spanish city that evoked memories of living in Valencia for me, and childish joy at all the twisty passage way for Tom. We walked a lot of miles, enjoyed some more traditional Andalusian tapas. And then it was back to Malaga for an overnight stay before flying home. And this is where it gets good.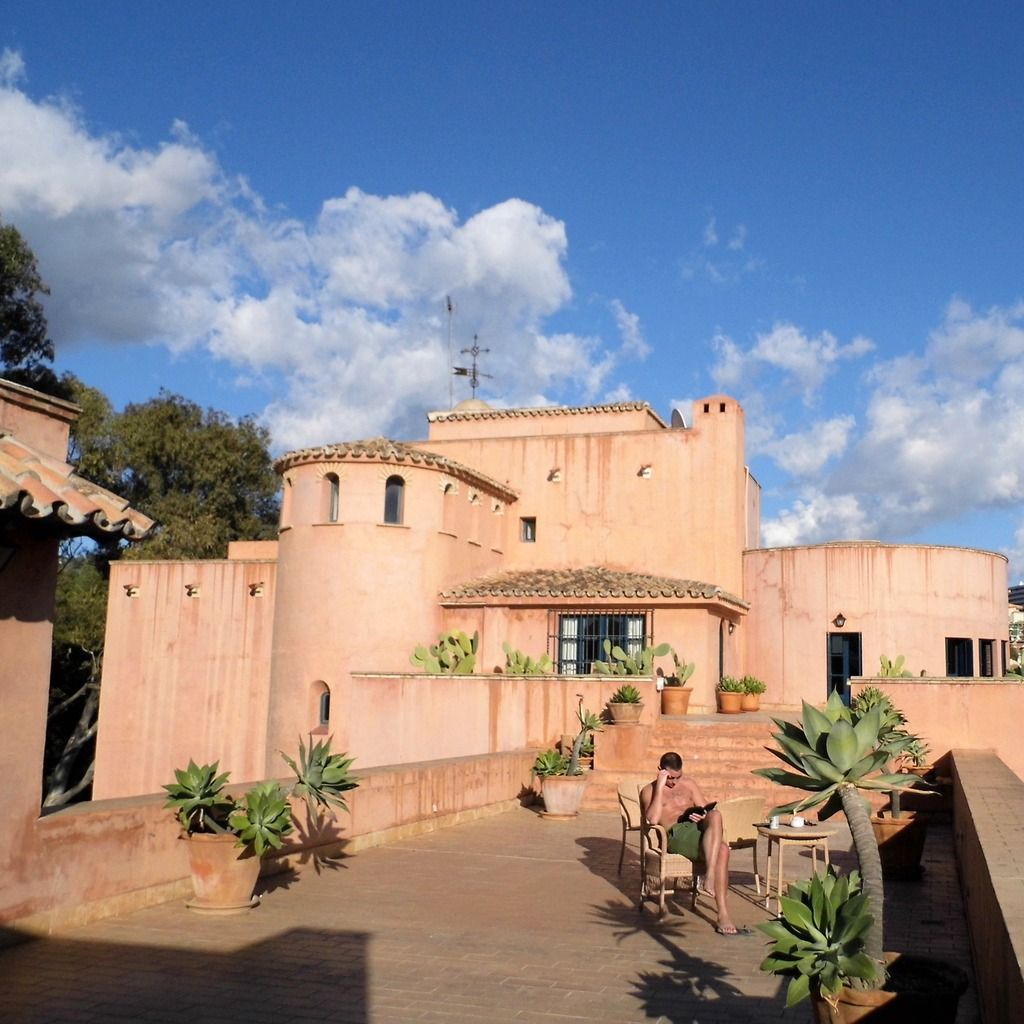 An actual castle... This is the terrace outside our bedroom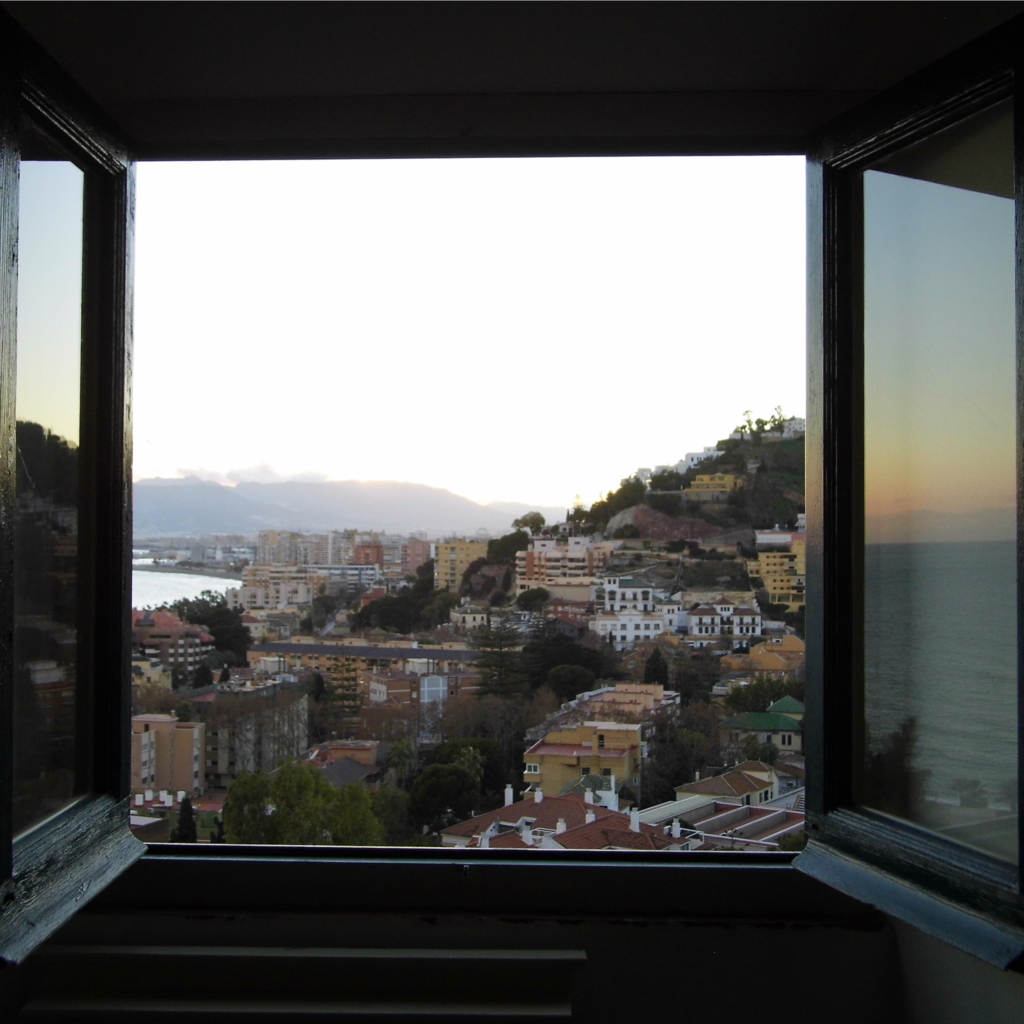 Not a bad little view from the bedroom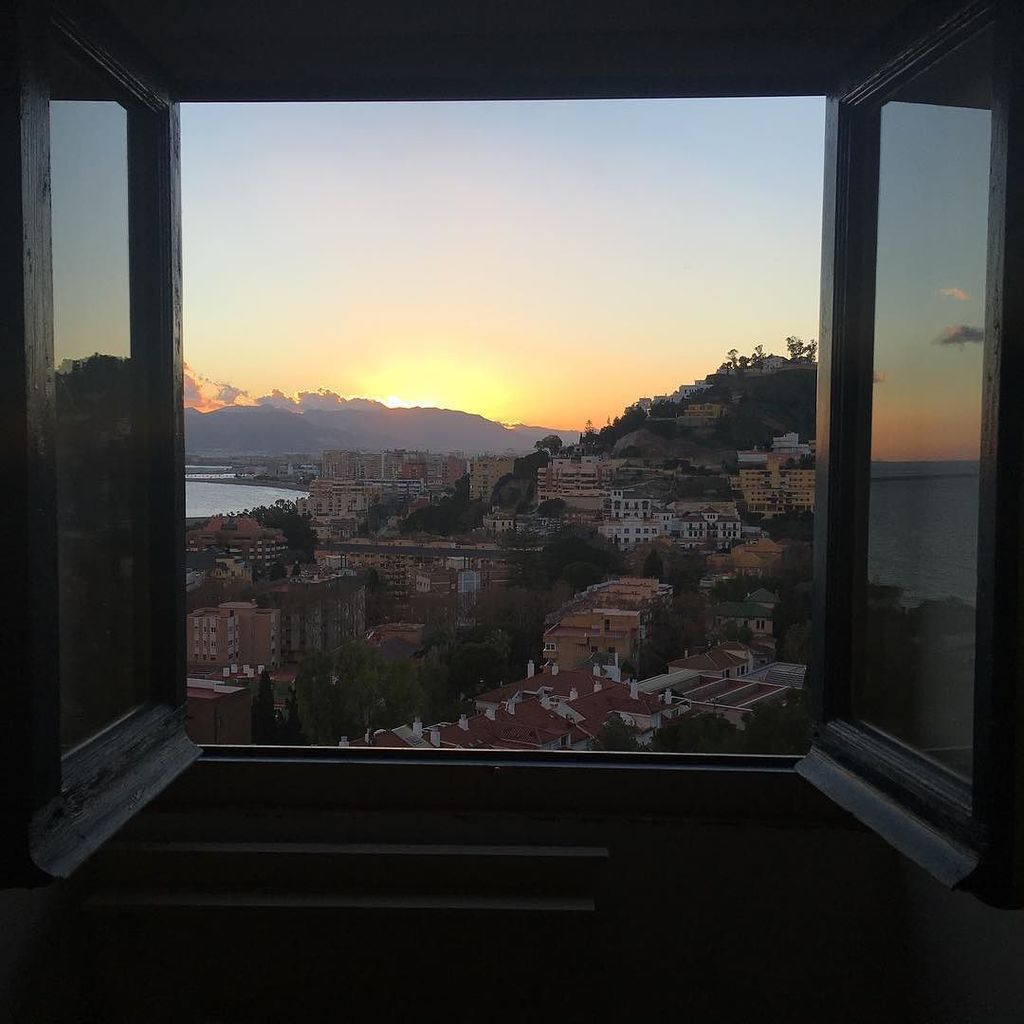 A no less beautiful view from the bathroom as the sun started to dip
Castillo de Santa Catalina is about 2km (or about 25 mins walk) from Malaga city centre (which hosts plenty of bars and restaurants) up some slightly hairy bends of slopes. The bends are worth it for the stunning views though. The castle has been converted into a total of 8 rooms, some of which are suites and it has a whole host of function and meeting rooms. As it was January, it was fairly quiet and as you can see, Tom made the most (as did I) of the very sunny upper terrace (which we accessed directly from doors in our bedroom) for a few hours.
Aside the stunning views and unique location, the other major sell point for this hotel was the friendly welcome. Rarely have we seen bad service in Spain but the hotel staff we met and who not only checked us in, but also showed us in (something I last remember doing myself circa 2005) were especially warm in their welcome, keen to ensure we had a lovely time and extremely helpful with our slightly odd timetable for checking out. The rooms were also lovely for being unique. Modern hotels are often large scale prefabs and each rooms is identical to the next. The unfussy whitewash plaster and beautiful tiles in the room gave the room a really enjoyable flash of colour, the bathrooms had been modernised to include spacious showers and baths without compromising on the age & style of the building and we didn't come across a single area of the hotel that wasn't spotlessly clean- much cleaner in fact than the flashing modernist bathroom in our Cordoba room which was decidedly tired considering all the modern straight lines and gloss black.
I often think we're very quick to talk about experiences or products when we have a negative experience. They often stick in our memories but having worked in or with service industry for most of my life, I know how it can feel when you only ever hear from someone when they need to complain and therefore I try really hard to make a point of remembering positives and giving positive feedback as well as honest feedback if I don't think something is quite right. Castillo de Santa Catalina was an overwhelmingly positive experience, stunning, friendly, welcoming, great rooms, great space and we're already eying up another night there on a June holiday I'm trying to get booked. It would make a lovely wedding venue and it's equally lovely for a weekend- it's 20mins drive from Malaga airport- winning. And it's an actual castle, did I mention that?