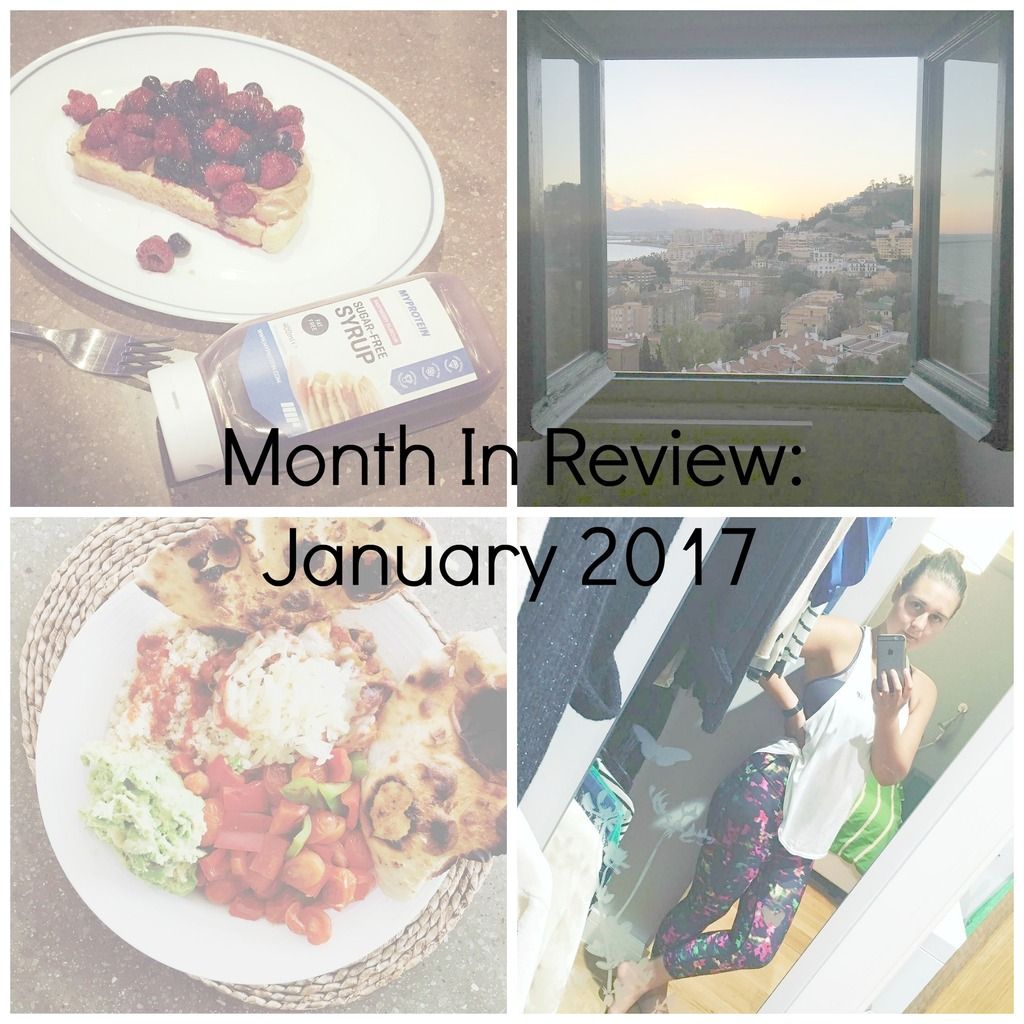 January. World politics aside, it's been a good month for me. If you don't want to read about the frivolous things I've been enjoying and personal achievements I've hit this month, this post is not for you, if you're looking for a bit of mindless distraction, do keep reading.
So, I kicked off January with a holiday- we shot off to Spain with a week in timeshare (thanks Mum & Dad for not having enough time to use it!) making the absolute best of the slightly warmer than average temperatures. And then headed off to Cordoba and Malaga for some more city style break. I posted about the incredible hotel we stayed in for our final night too- an actual castle, it was stunning and the service more than matched the surroundings-
click if you missed my post on Castillo de Santa Catalina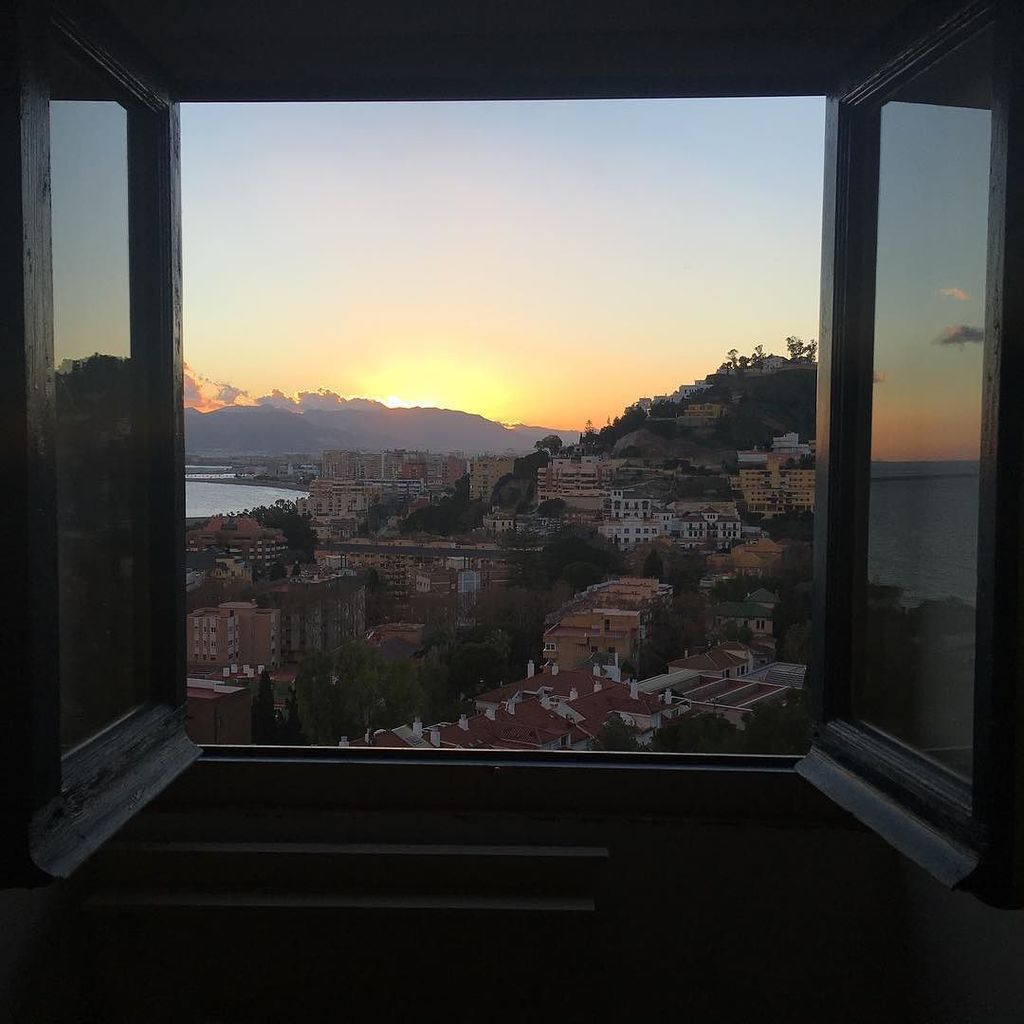 The view, though. And this was just the bathroom window
Food has featured really quite a lot this month too. Who am I kidding, 80% of my Instagram feed is food I'm eating, dreaming of or cooking.
I've had free reign over the kitchen for most of January since returning from my holiday, so it's been FUN...
1.
Smoked salmon, scrambled eggs and (homemade) English muffins
for a bleak Saturday morning brunch
2.
Pad (sort of) Thai
- a Pad Thai inspired, super easy recipe which works with pretty much whatever is in the fridge-
click if you missed my Pad Thai recip
e
3.
Burrito Bowls.
Because, BURRITO BOWLS.
4.
Call it French Toast if you must,
growing up in the North, it was always called 'eggy bread' and this is topped with peanut butter, warmed up berries & a drizzle of sugar-free raspberry syrup.
Training has featured heavily in January. I'm now 1 month out from the Cambridge Half Marathon. Despite running a marathon back in 2015, I've never taken part in a half marathon and figured it might be fun to try. So far I've been really enjoying getting some extra miles in and complimenting running with lots of strength training- I posted about my
2017 goal to train happy this year- click if you missed it
and I'm not yet finding that hard to stick with. I'm even building mini-muscles, which is cool.
But you know what's not cool? A conversation I had with someone I know, have run with previously and who was made to feel unwelcome, patronised and completely devalued in participating in a run. The conversation played on my mind for days, and it left me wondering what I could do. I believe, and have had the good fortune to experience inclusivity is crucial to get us all moving and to enjoy exercise. In wondering what I could do, I submitted an application the Asics FrontRunner community in the hope it may assist in spreading the word of exclusivity in running and at the end of the week, I was featured on the MyProtein Women Instagram feed with a sentiment that I think embodies inclusivity as well as the joy and freedom fitness can give you.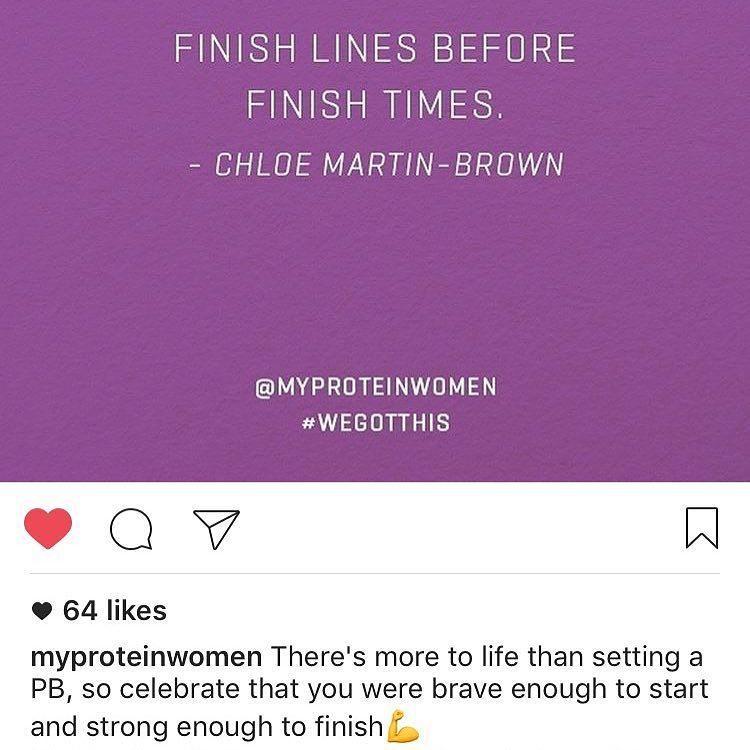 Finish lines before finish times!
Last up, a few things I've read this month that I think are worth sharing:
London Beauty Queen on influencers who buy followers and even more concerning- that PRs don't care
Josie from Sick Chick Chick posted about life 6 months post-transplant. Josie is such a brilliant champion of why organ donation is important and it's something I also feel strongly about.
Gillian completely smashed apart the concept that we're all supposed to be super busy Girl Boos types and it was brilliant.
Supersizing breakfast is an interested concept in a balanced diet and this article from Women's Health UK was an interesting look at just HOW supersize to go.
And finally.
I posted a very personal account of my experience with the death amongst family from whom I am estranged. It left me reflecting on my own self worth and also on why I made the choices I have regarding my family background.