And I'm back in the room! I was out with a nasty cold type bug last week and it really knocked the wind from my sails. I'm not very good at being sickly, I was definitely whiney and I was so frustrated to not have the energy to do all the things I wanted- it was a bit of an eye opener to how much I take for granted and that's a whole other post I'm starting to draft. Onto edible things, because food...
I recently had a go at making baked eggs/Shakshouka for the first time, and I was hacked off by the time I actually got to eating it because whatever the cook time said about it being quick and easy, I was well over half an hour later eating my dinner than I had intended. I'm not good when I'm hungry... what can I say.
So I won't profess this is a 'speedy' brunch recipe, it's one that requires some patience and a bit of prep, but it's worth it because aubergine is such a natural partner for North African flavours, even if my version is a bit of a re-jig thanks to a few test runs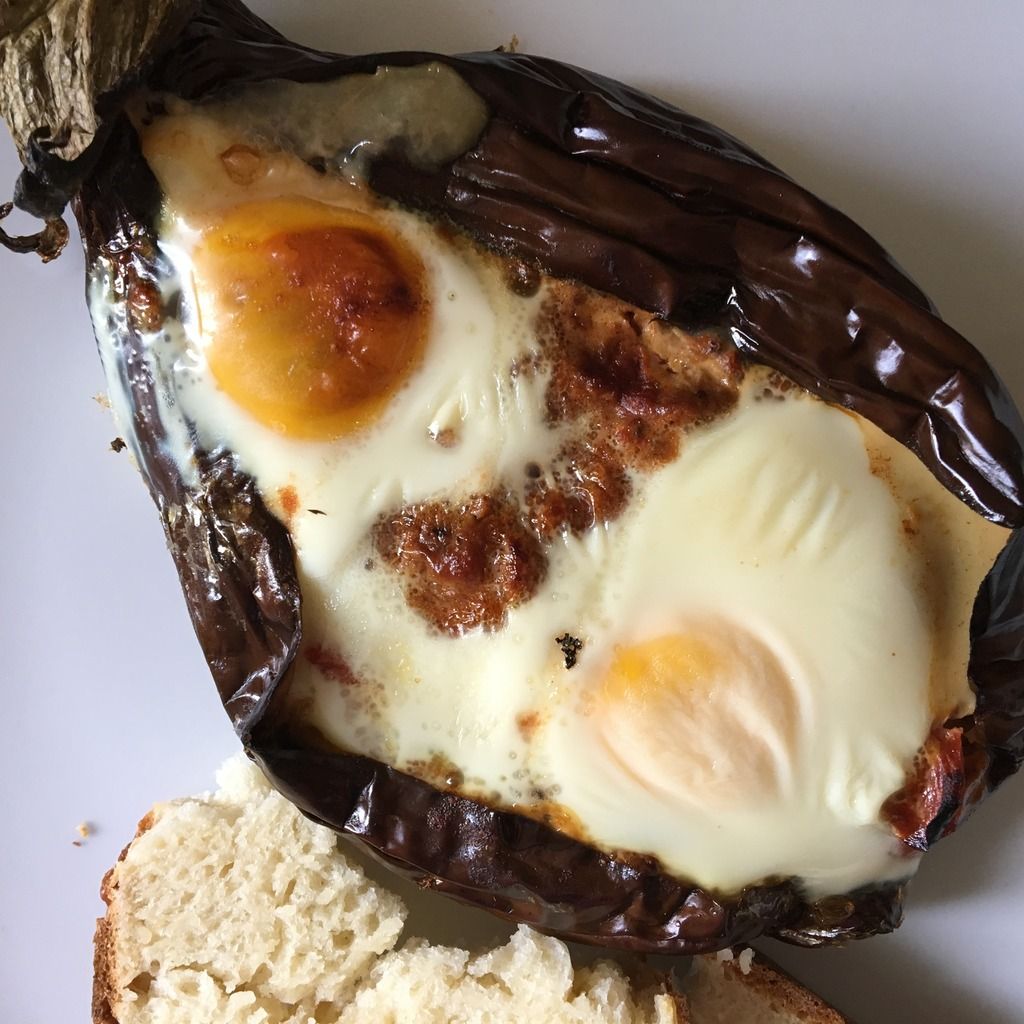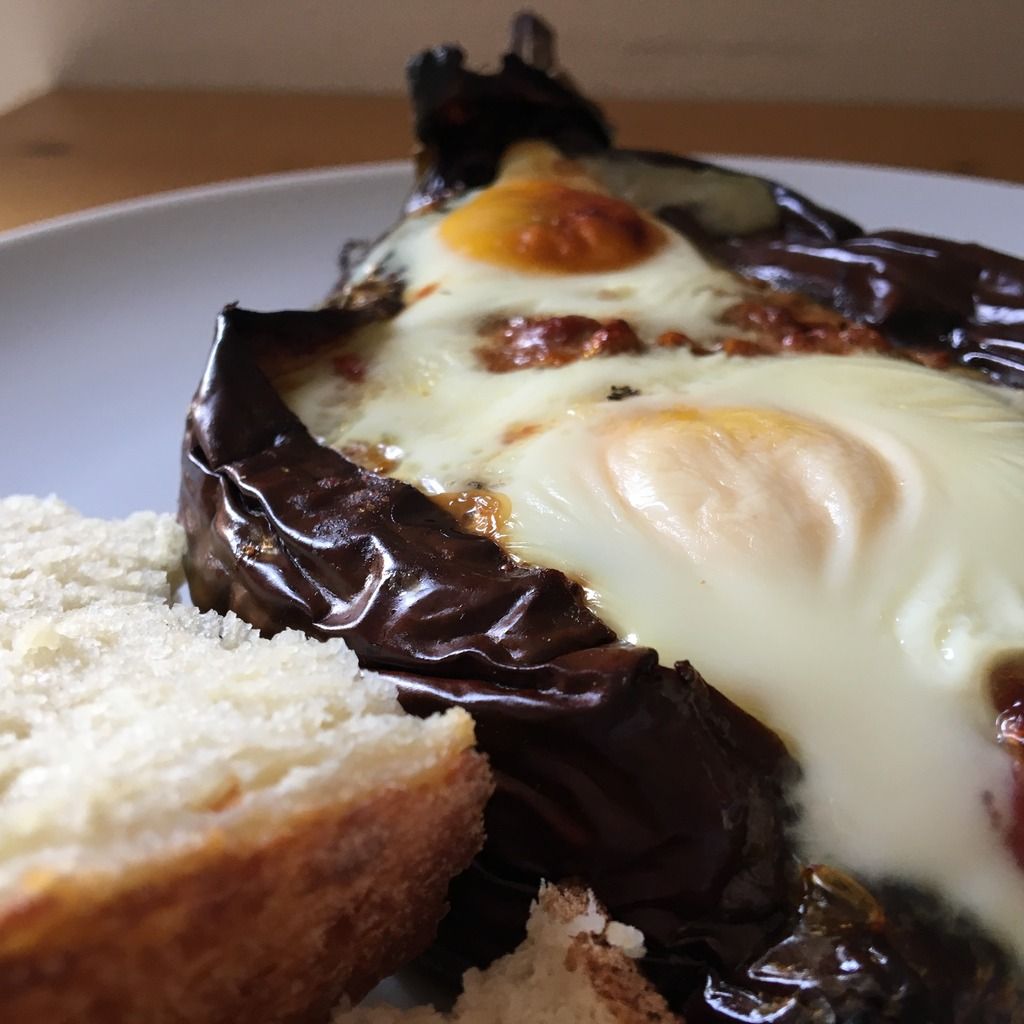 It's essential all the punchy, tomato-y, spicy, comforting flavours, spooned into a pre-baked aubergine and made even happier & sunnier with the addition of eggs. Go on... You know you want to....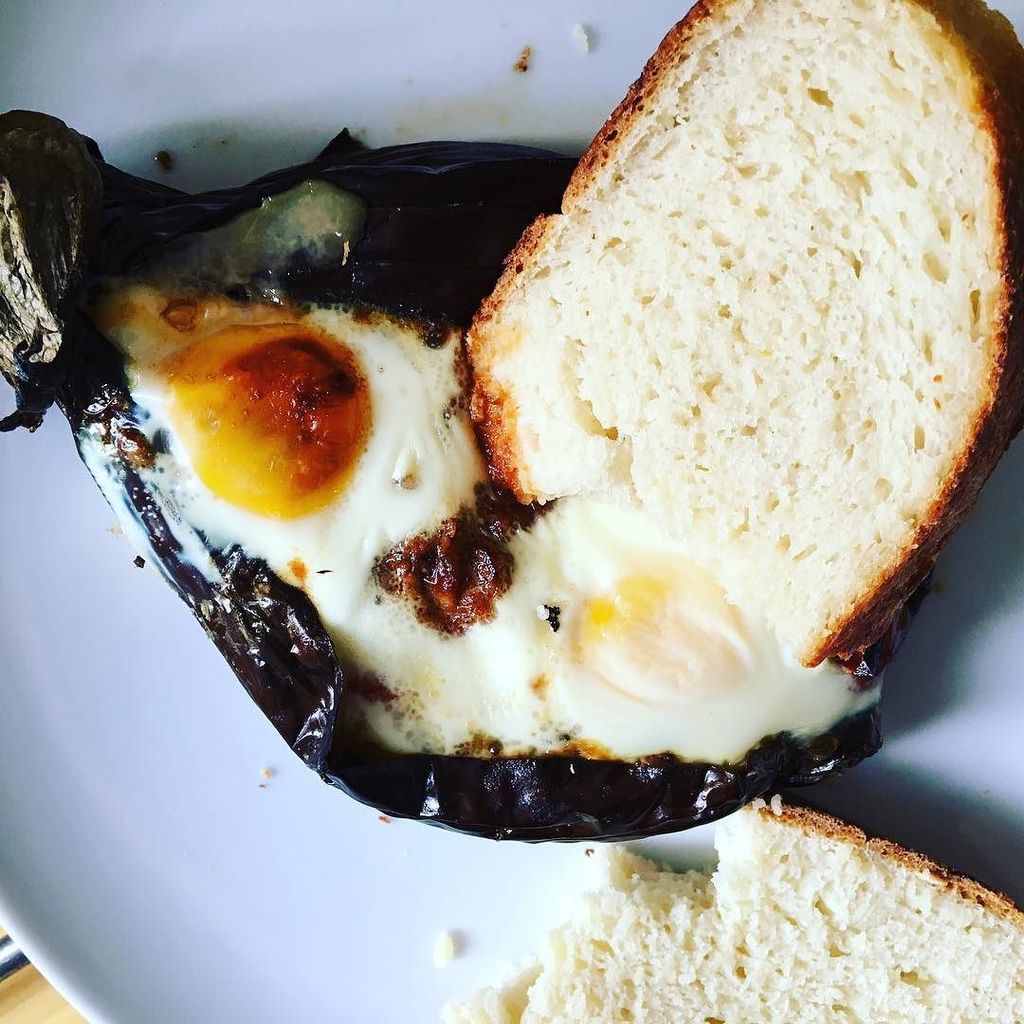 Prep time:
1 hour
Cook time:
20 mins
Ingredients



2




aubergines






4




eggs






1 tbsp




tomato puree






1 tbsp




harissa paste






1




red onion






3 crushed/minced




cloves garlic






1 tsp




smoked paprika






1/2 tsp




cumin






1




green pepper



Cooking Directions

Prick & bake whole aubergines at 180C for approx 40 mins- until they feel soft to touch


Leave to cool completely


Slice an opening down the length of the aubergine & scoop out the flesh- try and leave a little around the edges of the skin as this will help it to hold it's shape without splitting when filled.


In a pan, soften the onions and pepper, add the garlic & aubergines and stir well


Add the harissa, cumin & paprika and mix well over a medium heat


Add the tomato puree and stir, if the mixture looks dry, ad a splash (try a tablespoon to str) of water to loosen


Spoon the mix into the aubergines so they are approx. two thirds full and make 2 indentations to crack your eggs into


Carefully crack eggs into the aubergines- this is easiest done on a flat chopping board or plate so any spilt egg white doesn't bind the aubergine to your roasting tin during baking


Transfer the aubergines to lightly greased baking tray or tin, cover loosely with tin foil and bake for 10-12 mins at 190C- check the eggs often, as soon as the whites have turned opaque, bring them out


Serve with toasted sourdough & if desired a sprinkle of feta cheese