When I first donned a pair of trainers and went for my first painful, cold, wheezy run in January 2015, faithfully plugged in to a C25K app on my phone and wondering if it was worth it, I had no idea that there were specific running trainers. I had never heard of pronation and despite having had hip & ankle problems over the years, the thought of getting advice on running or specific shoes had never occurred to me, and the concept of different types of trainer for different gaits was totally non-existent in Chloe Land.
No gear and absolutely no idea. Me in Jan 2015
By June, I was still completing runs in a pair of trainers I'd had for cycling to work in. I'd bought them because they were pretty and nothing else. I was only just able to run 5km without stopping and I was yet to fall into the black hole of kit buying that can be so addictive with sports. So. Many. Shiny. Toys.
It wasn't until a branded gait analysis was available after an event- my first ever 'race' that I ever realised trainers were one thing, running shoes were quite another. The shoes I ended up purchasing (for half the price of the RRP online after the event) made a huge difference. They saw me through my marathon and marathon training and so I didn't give it another thought, because they worked for me.
My 2 pairs of Mizuno Wave Inspire running shoes that saw me through 2015 & into 2016
Until they didn't Until I had huge blisters appearing on the arch of my foot at which point I decided it might be an idea to try and independent running shop and reassess. Which at the time was great. £120 worth of trainers and 3 months later, the problems began and 6 months on, I have learned a lot about running shoes and gait analysis as an amateur to moderately experienced runner and it's left me asking some interesting questions and I thought my conclusions were worth a share for anyone else wondering how necessary this whole process is...
First up.... what even is a gait analysis?
IF you go for a gait analysis at a branded or independent running shop, you can expect for a member of staff to ask you some questions about your running- how far you like to run, on which surfaces, if you have any problems currently such as blisters, soreness, aches and pains (not just your feet) and if you play other sports. You can then expect to jump on a treadmill in some 'neutral' running shoes whilst they video your feet & lower legs. This is to get an idea of how your feet hit the ground, and whether your legs, feet & ankles need any additional support or cushioning. Pronation refers to how your foot and ankles roll (in towards each other- over pronation, out away from each other, under pronation). It's likely that you'll then try a handful of pairs and end up with a couple of choices to best suit your running style and goals.
Do I have to pay for a gait analysis?
Most running shops or brands will do your analysis for free, but may charge you if you decide not to buy anything afterwards. For example, the shop I used charges £25 if you don't make a purchase on the day but they also issue you with a £25 voucher to redeem against a purchase later on in case you just need time to think on it. Make sure you check before you get started to make sure you don't get any nasty surprises at the end.
Your feet will thank you for realising there is a difference between running shoes & trainers. Trust me.
Do I need gait analysis?
And so we get to the million dollar question...
If you've never run before
.... then a gait analysis is a great place to start. My first pair of running shoes felt phenomenally different to the trainers I'd been using and knowing a bit more about what I needed from a running shoe was a useful exercise.
But.... here's some things I wish I'd known...
Trust your own instincts
If a sales assistant seems keen for you to buy something and it really doesn't feel right, trust your instincts. Even if you can't put your finger on what the problem is, a specialist running shop should have staff who can help you work out what the niggle is. Don't let them bully you into buying something that isn't right.
Sometimes there are compromises to be made
I have found that staff providing analysis focus on correction first and foremost- they want to find a pair of shoes which prevent over/under pronation and they want to find the pair that gives you the most 'correct' running gait. Which is great- optimum position means you're less likely to find yourself injured and should make you more efficient (and who doesn't love a PB..) BUT and this is the big one. If a shoe corrects you're gait it might cause more problems than it solves. It's all fine and good having your ankles in perfect alignment for every step, but naff all use if you can't feel your right foot and have a blister the size of a golf ball on your left foot (true story of how I ran the Cambridge Half...). If you can find a balance of a shoe that is comfortable AND that assists with your gait, this is worth considering. Running with numb feet is really miserable. Considering dropping out of your race less than a quarter of the way through is really miserable. Blisters the size of £2 coins on the arches of your feet are REALLY miserable.
Beware of branding
There are thousands of running shoe brands and models out there. Some of the major market leaders have a shoe aimed at pretty much every need, but it doesn't mean that one brand's version of a stability shoe is the same as another and for that reason it's worth thinking hard before committing to a branded store and losing out on some variety. You might get lucky, but your perfect shoe might also be somewhere else
Independent vs Chain
Independent businesses are well worth supporting and if there's a great shop near you, go in and talk to them. Ask them about the service the offer and their experience. You're more likely to find staff who love running as much as you do in an independent store too. Chains are easier to find and often feel more familiar. Some offer extended return & replacement policies which is good if your trial run on a treadmill hasn't left you 100% sold on how comfortable your new shoes will be but. But I can't emphasise enough- do ask an independent store what they can offer you and what their service entails- don't just assume.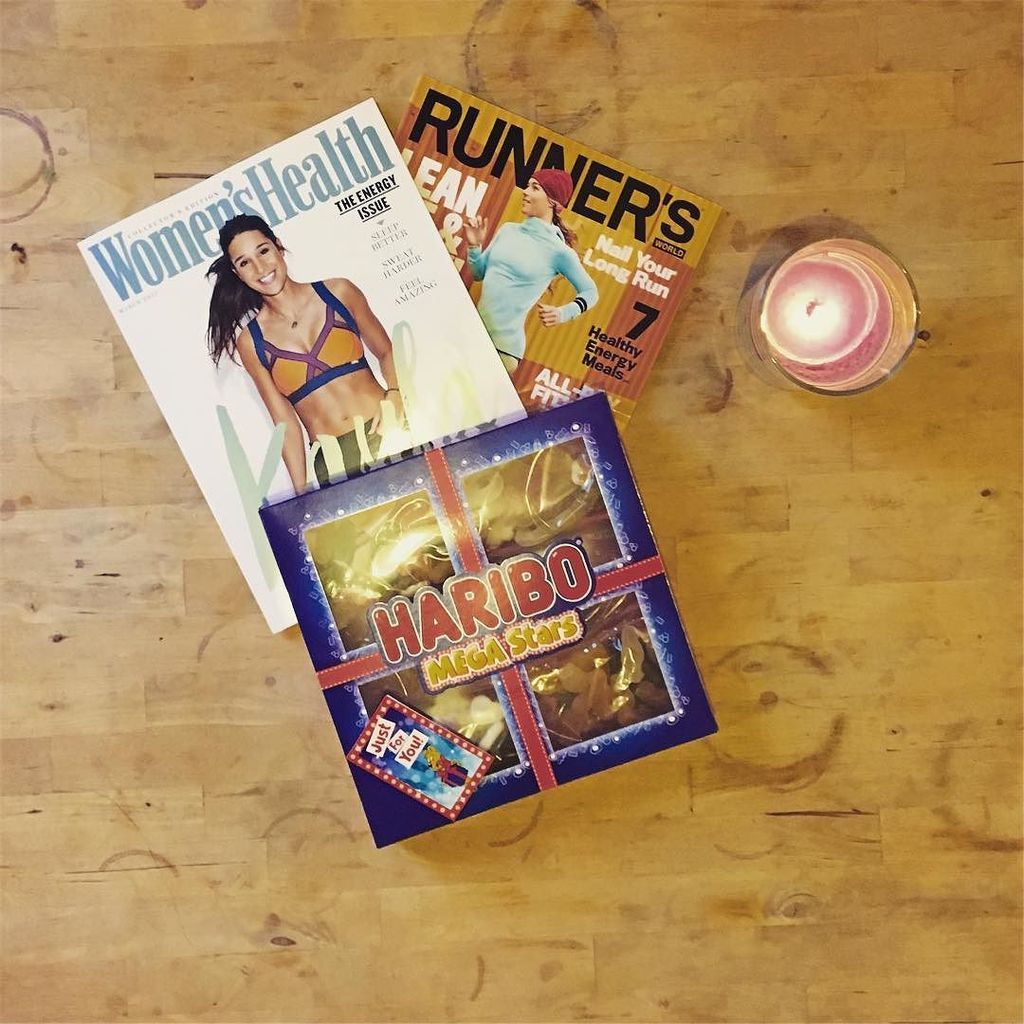 My treat after a long run... reading about more running & fitness stuff...
The Next BIG Thing
I like to read. I am currently subscribed to 4 print magazines (yeah, I know...) 2 of which are running specific (yes, I get it already) as well as the substantial number of blogs and online media I follow and it's very easy to convince yourself that you absolutely, definitely, no questions asked need something. And that's ok- it means that writers are doing their jobs. But until you've tried something, remember that as with many things in this life, what works for one person, or even a panel of testers, might not work for you. I really, really, really thought Saucony Guide shoes would work for me after reading loads about the new Guide 9s. I duly ordered a pair, convinced I'd found a perfect match. It was a bit heartbreaking to try them on a treadmill and have them feel ALL wrong and videoing the roll on my ankles was the final nail in the proverbial coffin.
Information Overload
And on the note of all the media and all the opinions and all the THINGS, if you have no idea where to start, then visiting a running shop is a really good idea and gait analysis might, if nothing else give you the opportunity to try before you buy since most analysis sessions will have you trial different pairs of shoes on a treadmill.
And finally, for anyone interested, I'm currently running in these Brooks Ravenna 8s. I was lucky enough to win this pair which means a very cost effective (ie... free) trial of a shoe completely new to me.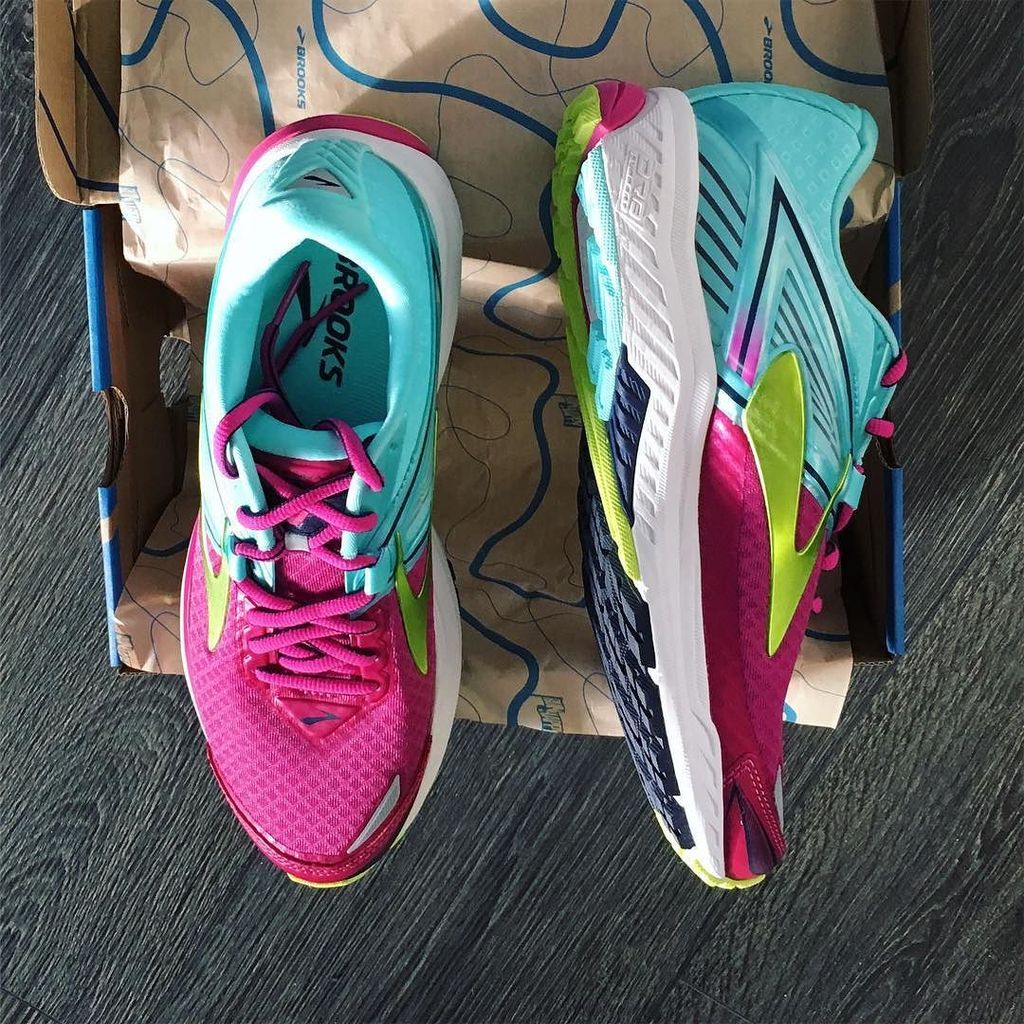 So fair they're very cushioned, especially in the heels- I've had to try heel-lock lacing to prevent some minor heel blisters, they're springy, there's plenty of room in the toes and the structure of the lacing over the midfoot has put a stop to the numbness problems I'd been having. So far... so good.
Please let me know if you found this post helpful or if you have any interesting experiences- good or bad of gait analysis and picking shoes because it's good to get some ideas.